Buy Me Love is reader-supported. When you buy through links on our site, we may earn an affiliate commission. Thanks, y'all.
We love giving weighted blankets as a gift.  It's basically giving someone a hug they can wrap around themselves whenever they want. Weighted blankets — also called pressure blankets, therapy blankets, and gravity blankets — are designed to mimic the sensation of being swaddled. Using a therapy called deep touch pressure, weighted blankets can help ease stress and anxiety while improving sleep quality. 
Consistently one of the hottest gifts of the holiday seasons, weighted blankets are available from dozens of different brands. Of course, not all weighted blankets are created equal, and it can be confusing to try and separate the quality blankets from the non-so-quality ones.
One weighted blanket we'll get behind? The Brookstone Calming Weighted Blanket. As sturdy as it is super soft, this weighted blanket is one of our favorites. But it's not for everyone — to decide whether it deserves a place under your Christmas tree, read our in-depth Brookstone Calming Weighted Blanket Review.
Brookstone Weighted Blanket: An Overview
From Brookstone — that iconic specialty gift retailer — the Brookstone Weighted Blanket sets itself apart from other weighted blankets with its ultra-soft Nap fabric cover.
Quick specs:
Cover material: 100% polyester with zipper
Weighted insert: Quilted cotton with BPA-free polyethylene pellets
Size: 48″ x 72″ (slightly smaller than a double)
Weight options: 15 lbs, 18 lbs, 12 lbs, 20 lbs
Colors: Navy, taupe, charcoal
Warranty: 15 years
Price: Varies depending on weight
What is the Brookstone Calming Weighted Blanket made of?
The Brookstone weighted blanket features a machine-washable cover that can be unzipped and separated from the weighted insert. The cover is a pure polyester Nap fabric that is both soft and breathable. The cover includes ties to hold the weighted insert in place.
Beneath the plush polyester cover is a quilted insert made from cotton and filled with BPA-free pellets. The cover is quilted into pockets so the pellets are spread out evenly over the entire blanket.
How to choose the right weight and size for you
The Brookstone Calming Weighted Blanket is available in four sizes:
20 lb. – Best for couples or individuals over 180 lbs.
18 lb. – Best for individuals that weigh between 150 and 180 lbs.
15 lb. – Best for individuals weighing between 100 to 150 lbs.
12 lbs. – Best for individuals weighing under 100 lbs.
This blanket is available in one size: 48"x 72". It's designed to be used as a throw and slightly smaller than a full-size blanket.
How do you wash the Brookstone Weighted Blanket?
Only the removable cover of the Brookstone Weighted Blanket may be washed. To do so, unzip the cover and unfasten the inner ties. Machine-wash the cover in cold water without bleach. Do not put the cover in the dryer, but instead allow it to dry on a line.
The weighted insert is not machine washable. To wash the weighted insert, you can either spot-clean or dry-clean.
What are the benefits of the Brookstone Calming Weighted Blanket?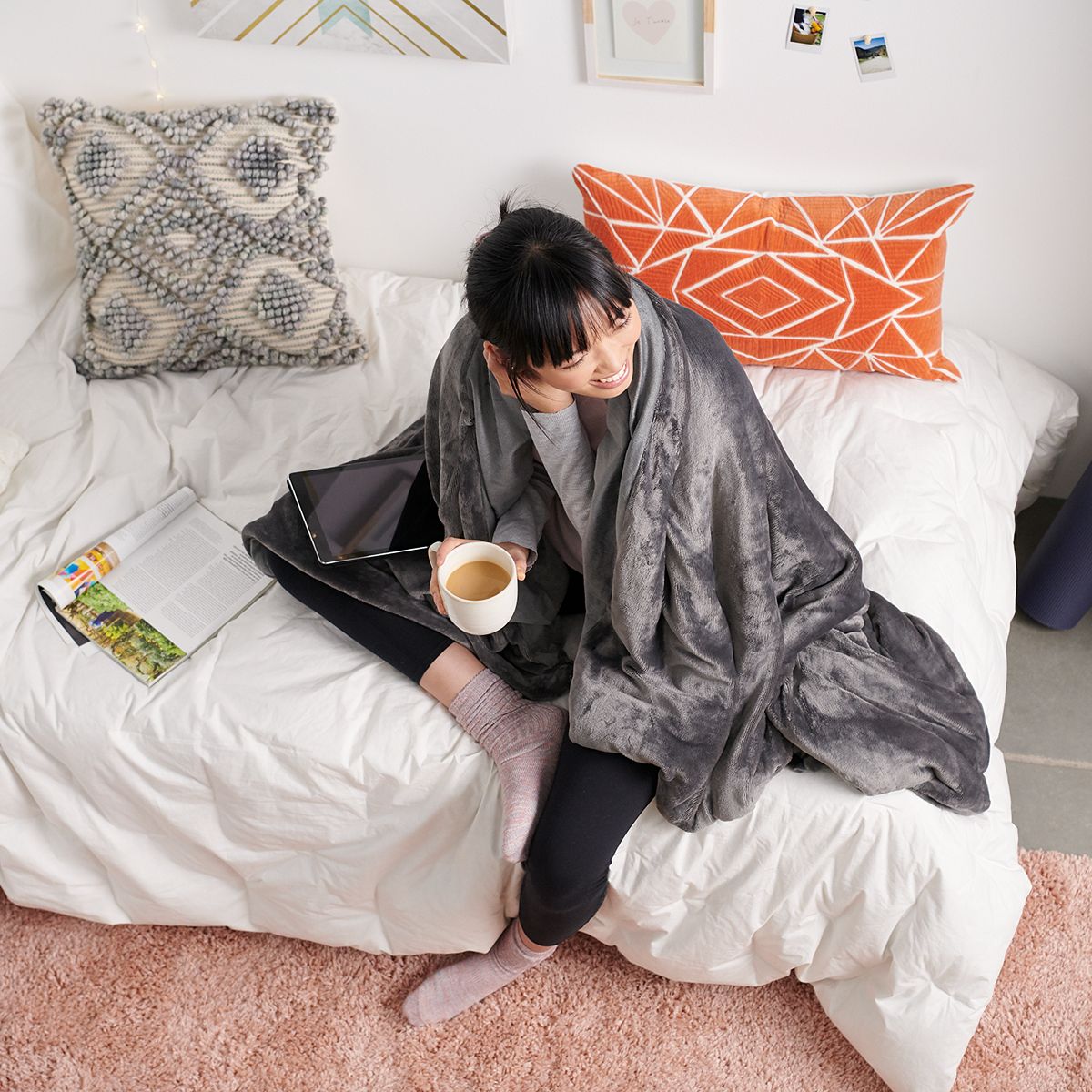 Like any high-quality weighted blanket, the Brookstone Calming Weighted Blanket is associated with a variety of benefits. Top benefits include:
Reduces anxiety. Weighted blankets are designed to replicate the feeling of getting a hug, a universally calming experience. Turns out there's science behind this: The feeling of weighted physical pressure can stimulate the production of a feel-good brain chemical called dopamine. This, in turn, has a calming effect.
Fights stress. When your body releases dopamine, it typically reduces cortisol levels in your body. Cortisol is a hormone that your body generates when you are feeling nervous, irritated, or stressed out. Lower cortisol levels in your body may equal less stress.
Better sleep. Research has demonstrated that the use of a weighted blanket can help reduce tossing and turning while you sleep. Weighted blankets have also been found to boost melatonin production, the hormone responsible for regulating our sleep cycle.
Reduces restless leg syndrome. Restless legs syndrome (RLS) is a nervous system disorder that causes an uncontrollable urge to move your legs, typically while you are trying to sleep or lie down. Weighted blankets can help alleviate the symptoms of RLS by pressing down on your legs.
Boosts mood. Like a hug, weighted blankets can actually give your mood a boost. The deep pressure delivered by the blanket stimulates serotonin product, which in turn helps you feel better overall.
What are the drawbacks of the Brookstone Calming Weighted Blanket?
When you first open your Brookstone weighted blanket, you may notice a faint chemical smell. This is due to something called "off-gassing", or the release of airborne particles when you first open a household product. The smell should disappear within a couple of days.
In addition — as with most duvets — it can be time-consuming to retie the weighted insert to the cover after removing it for washing. When trying to reattach the cover, it's a good idea to get help from a buddy or member of your family.
Finally, the Brookstone Weighted Blanket is slightly smaller than a full-size blanket. For this reason, the blanket is best for single-person use and not a couple.
The Bottom Line
The Brookstone Calming Weighted Blanket is a uber-soft, well-constructed product that can help promote better sleep and improved mood. And because it is available in many different weights, it can make an excellent gift for adults of all sizes and youngsters. It makes a great addition to a home's bedroom or living room sofa.
Inspired by our Brookstone Calming Weighted Blanket review? Buy it now.
Or, get more shopping inspiration with this gift guide for flamingo lovers.